Available at our Grab & Go Cooler:
ALL of our food is Gluten-Free, Dairy-Free, Peanut-Free, Soy-Free, and free from any Refined Sugars.
Our Philosophy
We all know the incredible effect prioritizing nutrition can have on everything else you do in your life.
The more thoughtful, good decisions you make about what fuels your day, the better equipped you'll be to take on your responsibilities. 
This is why Victus Foods was created. A busy schedule or lack of desire to cook should not prevent you from supporting your health and wellness goals and your life. We created our recipes to be delicious, well-balanced, and convenient, and a resource to support you and help make a little more time for the things that matter most to you. 
We have been providing meals to our customers for about ten years, and are looking forward to to continuing our work and continuing to have a positive impact on our community through food that tastes good and does good. 
We use seasonal and local ingredients.
We know our farmers and prioritize using local food suppliers who take a sustainable approach to food production.
All of our food is Gluten-Free, Soy-Free, and Dairy-Free.
We don't use any refined sugars or peanuts, either. We source organically as often as possible. Generally speaking, ALL of our food is made to a Paleo-diet standard, free from most common allergens.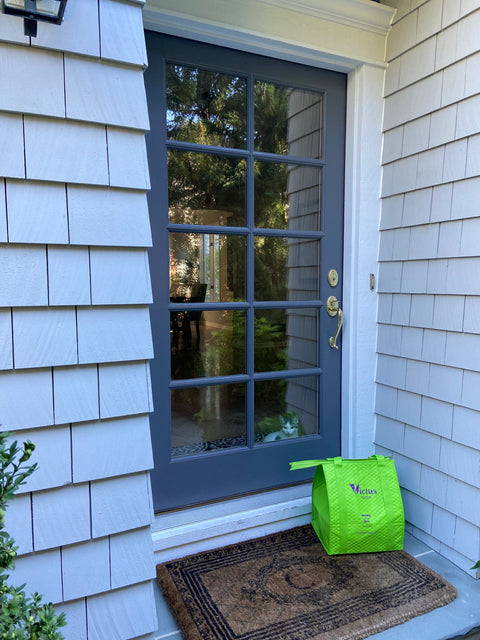 We make a healthy lifestyle more convenient.
Local delivery brings our ready-to-eat meals right to your door. Simply reheat and eat!
I've been feeding my family 3-4 days a week for several years now. As a super busy family with two working parents, it's a pretty easy decision really. With the home delivery, it's now just as easy as any other take-out or delivery option, but of course the big difference is in the nutrition.
It was love at first bite. Now, years later I realize how much I have come to truly appreciate the home-cooked offerings from Victus Foods. Ingredients are locally sourced with the highest quality meats and produce going in to the meals. I appreaciate having the macros provided for each meal as well as the fact that they are so incredibly delicious.
My wife and I have enjoyed Kirsten's meals for a few years. I have a lot of anxiety about eating good food, but neither my wife nor myself enjoys cooking. Kirsten's meals are thoughtfully prepared, use organic and locally-sourced ingredients, and taste delicious.